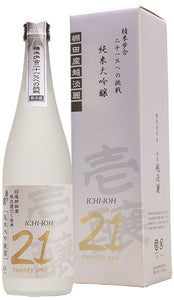 This is the highest quality sake made from only the Shinpaku (white core) portion of 100 kg of rice, which is polished to 21 kg.

The fruity aroma and taste are truly superb.

It is a perfect match for dry-cured ham, carpaccio, and other dishes that bring out the best in the ingredients.
Type of Sake

Junmai Daiginjo

Sake Rice

Home-grown Nagaoka Koshitanrei (Niigata Pref.) - Grown in own rice terraces

Alcohol

16%

Rice Milling Rate

21%

SMV

0.0-+2.0

Character

Fruity and delicious flavor brewed from
ultra-highly over polished rice

Aroma

Fruity and fragrant aroma

Serve

Recommended to be chilled under 5℃

Bottle size

720ml
Price
S$150.00